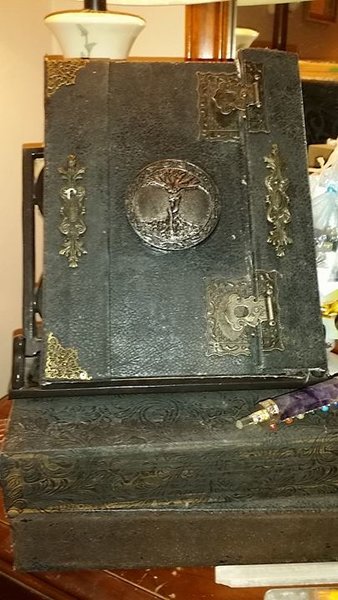 Book of shadows
Tree of life brass Embellishments amulet centered on the cover with antique style claps locks and corners.
An Antique style book of shadows for the new witch with a huge amount of room for your entries for years to come

Perfect for the new witch, OR ANYONE who wants to expand the hedge craft.
Each page has envelopes for you to put your herbs in. Also has extra pages for the hedge witch to add personal entries.
THIS BOOK IS SLIGHTLY LARGER THAN 8.5 X 11
Hundreds of pages - That's a huge amount of space for your notes

Don't forget once you write in your book do not let anyone who is not of the craft touch it.
Includes The old witches correspondences and newer names of each herb. There are 122 HERBS LISTED WITH PICTURES IN COLOR AND CORRESPONDENCES FOR EACH HERB and herb envelopes in 5 different colors (2x2). Spells included under each listing of herb. Herbs are not included. You will need to order your own herbs to add to the envelopes.