SOLD - Reiki Charged, Original Acrylic Painting, Mixed Media Collage, Tranquility with Archangel Michael's Symbol.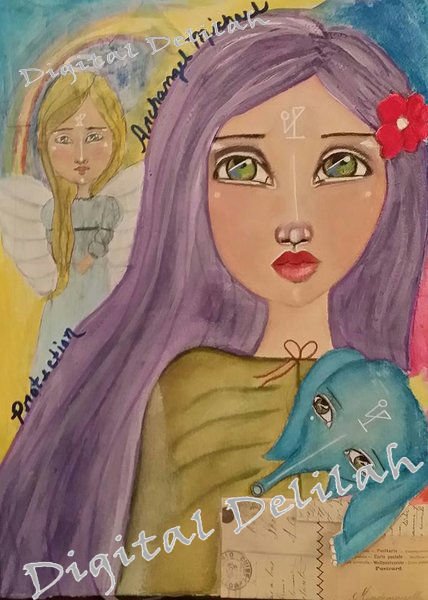 ***Money from this sale will be going to help in support of Joey Edwards and his lovely family as he is fighting Brain Cancer. My prayers and heart go out to him and his xx
This is Tranquility. She is imbued with the symbol of Arch Angel Michael on her forehead.
She is an original mixed media piece.
In her little envelope she carries your thoughts and feelings. You simply write it down and give them to her. This piece was then infused with Reiki.
She is created on 150lb watercolor paper and a mixture of acrylic paints, watercolors and prysmacolor pencils were used to create her among other papers that created the layered effect and envelope.
Her symbol is powerful and one I call on often.
She will be shipped UPS within 3 to 5 business days of payment.

She is a one of a kind and will not be duplicated in any way.
#Lifebook
#Willowing
Be Blessed,

Digital Delilah
Artwork copy right © 2015 Digital Delilah

Reproduction rights not transferable with sale.