Pick 3 - 8 Ounce Candles, Reiki Charged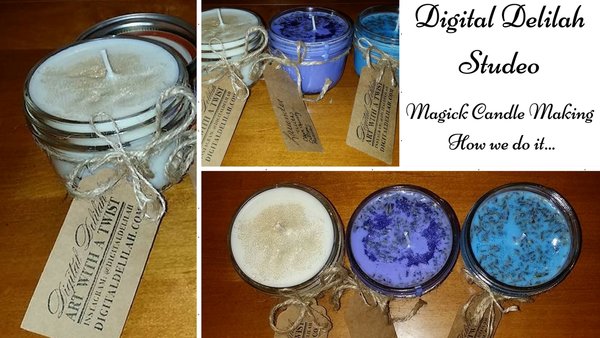 Pick 3 gives you the chance to try THREE different awesomely scented candles and save! Not sure which scent is your next favorite!? Perfect!...
How we make our Candles - Video
Each Candle is poured fully into a cute 8 ounce jar with it's own lid. We add Crystals/Stones and herbs to create the desired effect of the candle so when the candle is all gone there is a little something for you in the bottom of each jar. We also give you an intuitively chosen crystal/stone with each order. To complete the effect we also include a bath melt so you can enjoy a nice moisturizing bath with your candle. Nice little package with your Pick 3!
Choose from the list below and if there is something you are looking for that you do not see please don't hesitate to email me to arrange a special order. dd@digitaldelilah.com
*Pick 3* - 8 ounce candles - $30
Cocoa Kiss - Chocolate & Peppermint Essential Oil
Honeysuckle Rose - Honeysuckle & Rose Essential Oil

Tranquility - Lavender Essential Oil
Rose Garden - Rose Essential Oil

Je t'aime - Passion Flower & Ylang Ylang Essential Oil
Spiritual Bliss - Sacred Lotus Essential Oil

Warm Star Anise - Vanilla, Star Anise & Ginger Root Essential Oil
Sugar & Spice - Cinnamon & Ginger Root Essential Oil
Orange Sherbet - Orange Essential Oil
Lovespell - Lovespell Essential Oil

Comfort - Eucalyptus & Peppermint Essential Oil
Purity - Sage Essential Oil

Two Scoops - Chocolate & Vanilla Essential Oil
Lemon Lime Punch - Lime & Lemon Essential Oil

Spearmint Refresher - Mint & Vanilla Essential Oil
Orange Blossom - Orange & Vanilla Essential Oil

Cotton Candy - Vanilla & Cotton Candy Essential Oil

All candles are Reiki Charged
****Be sure to add which scents you would like into the notes section at checkout! Each candle is hand made, hand-poured & strongly scented!

You won't be disappointed with our wonderfully scented candles made with our secret wax blend which includes an all natural soy wax! All candles are made with the finest quality of ingredients and the freshest essential oil fragrance.
We promise to continue making candles from the heart, creating long lasting, clean burning candles! Each candle is hand poured and made to last!

Our Candles also make the perfect gift for family, friends & loved ones!! Our candles are made in re-usable mason jars with screw top lids. Simply wash with hot, soapy water and re-use our mason jars for storage, decor or even a cool flower vase!

ORDER PROCESSING AND SHIPPING:
Candle orders are usually shipped within 5-7 business days