Schmincke Horadam Aquarell Watercolor Half Pan Set, 48 Colors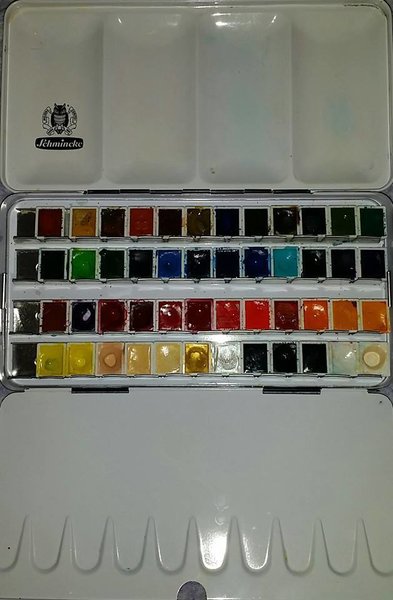 Half Pan Set of 48 Colors —
Contains half pans in 48 colors, including Lemon Yellow, Cadmium Yellow Light, Cadmium Red Light, Permanent Carmine, Ultramarine Finest, Prussian Blue, Phthalo Green, Permanent Green Olive, Yellow Ochre, English Venetian Red, Sepia Brown, Ivory Black, Chrome Orange, Cobalt Green Dark, Naples Yellow, Burnt Sienna, Manganese Violet, Cerulean Blue Tone, Chrome Yellow Deep, Deep Red, Magenta, Indigo, Helio Turquoise, May Green, Translucent Yellow, Translucent Orange, Scarlet Red, Ultramarine Violet, Delft Blue, Mountain Blue, Prussian Green, Olive Green Yellowish, Brilliant Yellow Dark, Madder Brown, Indian Red, Burnt Umber, Titanium Opaque White, Permanent Chinese White, Indian Yellow, Naples Yellow Reddish, Madder Red Dark, Phthalo Blue, Cobalt Turquoise,
Neutral Tint, Payne's Gray Bluish, Gold, and Silver.
Lightly used. Some never used except to build a color chart.